I felt violated when I first read about, and saw still images from The Orville. It looked unbelievably derivative of TNG-era Star Trek.
Then a couple of days ago I read a positive review of it, and I discovered that I have the first episode free with Amazon Prime. So I watched it, just now.
I was right. It is blatantly a Star Trek rip off; so much so though that I realised that this was actually the whole point. It's an homage.
In this first episode I noticed, for example: a holodeck. A "starship" explicitly referred to as such. A shuttlecraft. The starships have warp drive, and although it's called "quantum drive", they do the same flash of light BOOM! when the ship goes to warp. The layout of the bridge is pretty much the same, with two helm officers sitting in front of the Captain's chair, and a viewscreen in front of them. The doors hiss open in exactly the same way. The overall styling is also very reminiscent of TNG and Voyager, especially in the clothing and decor.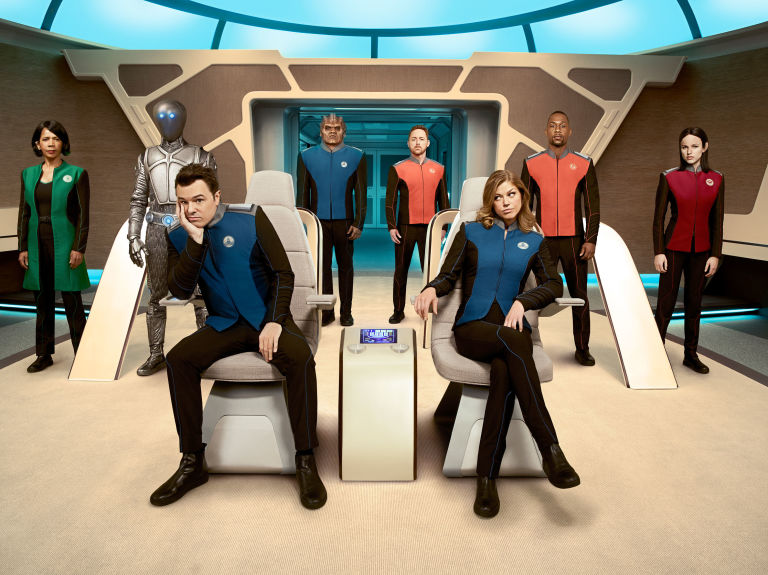 It doesn't have any of the tradition and gravitas of course of the ST franchise, but the approach is different. It's played for laughs. It's almost a comedy, to the point where the story is just a vehicle for the gags. It reminded me of Galaxy Quest. I loved it.
Some of the characters seem a bit pointless so far, particularly the bitch First Lady from the first couple of series of 24 who's a doctor in this one. But perhaps they'll be fleshed out.
The CGI is OK. It's about the same standard as Voyager, which considering that series is over 20 years old now is not saying a lot. But it's good enough. Perhaps I'm misremembering that anyway.
I didn't fancy Discovery much when I saw the trailer, but I'm well up for this.